Judi Bari Web Photo Gallery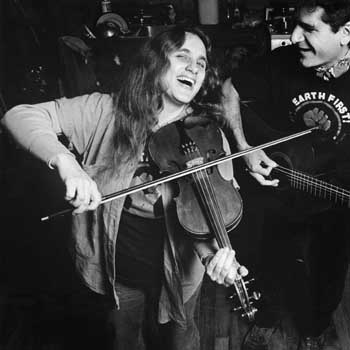 Photo by Evan Johnson
The first time you view the gallery it may take a minute or two while the thumbnail photos download in the index frame on the left side of your screen. You can scroll down the index and choose a large image to view by clicking on the thumbnail photo. Once the thumbnails have finished loading, you should find that even on a slow dialup connection it should take only a few seconds to load the photo you have selected.
The photos are from the Redwood Summer Justice Project's photo archive, and many of them came from Judi's personal collection.
Many of the photographers allow noncommercial use of their photos without charge, if photo credit is given. Some photos are by photographers who make their living by photography and require permission for use. Some are official police evidence photos, and may be used freely. If you wish to use any of the photos which require permission, please email webmaster at judibari.org for referral to the photographer.
The gallery is designed for a screen size of at least 800x600, and 1024x768 works even better. The interface uses frames.