Judi Bari Bombing Case Updates Archive
(revised 6/13/05)
This is an archive of case update letters mailed out by Redwood Summer Justice Project over the years leading up to the trial in Bari vs. FBI. If you are unfamiliar with the case and want a detailed view of the development of it, you might want to start at the bottom of this index with with the earliest updates (written by Judi herself) and work your way up.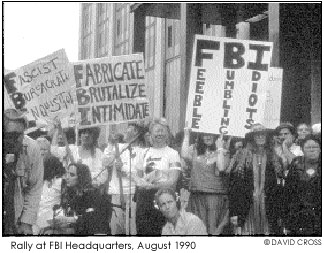 Well...THIS IS IT!!!

At 8:30 am on April 8, 2002, about 50 people summoned from all over Northern California will file into the Oakland federal courtroom. A handful of them will become the jury that will hear and decide the case of Judi Bari vs. the FBI, almost twelve years after Earth First! organizers Judi Bari and Darryl Cherney were car bombed in Oakland and then falsely arrested by the FBI and Oakland Police. ...
Click here to see the whole letter
BariNews email list inaugurated
Historic Trial Starts October 1 (postponed to April 8, 2002) - Read BariNews No. 1 (8/23/01)
July 2001 EF! Bombing Update Mailing
Earth First! letter to supporters

As lead attorney Dennis Cunningham declared at the Oakland rally commemorating the 11th anniversary of the bombing of Earth First! organizers Judi Bari and Darryl Cherney, "It's a good time to go to trial against the FBI!" Read more ...

Bombing Case Update, Summer 2001

The trial in Earth First!ers Judi Bari and Darryl Cherney's civil rights lawsuit against the FBI and Oakland Police (OPD) begins October 1, 2001. Here is an update of what we've been doing on the legal front to get ready.

Why Did the FBI Hold Back Evidence in Church Bombing Murders? — NY Times OP-ED by former Alabama Attorney General Bill Baxley

"... For more than two decades, Mr. Blanton and Mr. Cherry evaded indictment and prosecution because the FBI held back these recordings. This was evidence we desperately needed in 1977 — evidence whose existence FBI officials had denied. Had it been provided in 1977, we could have convicted all three of these Klansmen."
Read more ...
May 2001 Letter
We're going to trial with the FBI! October 1, 2001 is the date. And we're working our buns off to get ready. The stress is phenomenal. The deadlines are piling on top of us. The workload is unbelievable — but we're doing it. Expert witness statements, last rounds of depositions, interrogatories and requests for admissions, even searching for a new office space close to the Oakland courthouse — that's the work at hand. We're also preparing a final "Motion for Justice" to bring Special Agent-In-Charge Richard Held back into this case ... (continue)
December 2000 Mailing
Just ten short months from now, Bari vs. USA will put the FBI on trial in federal court! This historic civil rights case and our campaign for justice for Judi Bari and Darryl Cherney have just shifted into overdrive, so your help and your support are now more crucial than ever. Click on a link below to read the complete letter:
Adobe Acrobat version reproducing layout and graphics of the paper version (requires the free Adobe Acrobat Reader)

August 2000 Update
October 1, 2001 Trial Date Set, report on Targets of Cointelpro event, lawsuit update
April 2000 letter
May 24th will mark the 10th anniversary of the car bomb assassination attempt on Earth First! organizers Judi Bari and Darryl Cherney. Many of you will remember the horror of that day when you first learned that nonviolent activists -- people like yourselves -- had been bombed while they organized protests against the cut-and-run logging of the last of the redwood forest. Click here to read the complete letter, including latest on status of lawsuit against FBI. (posted 4/29/2000)
November 1999 letter
Great news for all of you who have supported our eight-year fight for justice in the 1990 car bombing of Judi Bari and Darryl Cherney! Court victories in the federal civil rights case, upcoming hearing dates, our newly formed team of trial attorneys -- you name it, we've got it! So please take a few minutes to read this over now. This landmark case is about to take off like a rocket, and we need you with us today more than ever. Click here to read the complete letter. (posted 12/6/99)
August 1999 update mailing
August 1999 Letter
Since our last mailing to you, we learned of a spate of violent attacks and attempted frame-ups of environmental activists around the country. As we talked with the targeted activists, we couldn't escape the feeling that it was exactly this atmosphere of stepped-up violence, threats of violence and law enforcement complicity that had led up to the carbomb attack on Judi Bari and Darryl Cherney in 1990....
Click here for the complete letter as a normal web page.
Click here for the complete letter as an Adobe Acrobat PDF file for online viewing or printing out in original format.
April 1998 update mailing
Letter from RSJP - Apr. 1998 (posted 4/13/98)
Bombing Case Update, Apr. 1998 (posted 4/13/98)


America's Secret Police - FBI COINTELPRO in the 1990s (posted 4/13/98)
November 1997 update mailing
Letter from RSJP, Nov. 1997 (posted November 24, 1997
Overview of the Earth First! Bombing Case (posted November 1997)
Bombing Case Update, Nov 1997 (posted November 1997)
A Victory (of sorts) in the Courts, Exposing the FBI, Pepper Spray Backlash -- The Disruption Continues (posted November 1997)
Bombing Case Update, May 1997(posted 5/20/97)
Federal Suit Update, Judi's Deposition, FBI Lab Scandal, Berkeley Tribute to Judi Bari
Bombing Case Update, Nov. 1996 by Judi Bari (last one written by Judi before her death on March 2, 1997) (posted 3/14/99)
FBI Prior Knowledge, Arizona EF! File, Local Surveillance, Missing Documents, Lingering Questions
Who Bombed Judi Bari? RSJP's November 1996 illustrated brochure by Judi Bari giving a brief overview of the case against the FBI
---